Laneways of Melbourne Tour
Do you want to make the most of your visit to Melbourne and immerse yourself in the local culture? Heard about the cool laneways in Melbourne and want to discover some of the best with a friendly local? Donít miss a special selection of secret galleries, hidden shops and laneway cafes! Cost here...
Take the best cultural walking tour for a feel of Melbourne as it was and as it is now. At the end of your small group tour you will be satisfied you know much more about the hidden side of Melbourne that only locals see - often found in back alleys and laneways.
Right from the start we take you into the city's underbelly or be presented with some world-leading street art. Next, you may see some great architecture, hear about criminals, a good cafe or 2 or anything else that your guide may tell you. The tour is never exactly the same on any day. Later in the tour, you will be able to sample the world's best macarons (sorry, not macaroons!) and enjoy a customised mix of attractions as above and also selected hidden shops, galleries, amazing historical and recent facts, interesting stories and more.
This walking tour is available every day all year round except some holidays. (1st Sunday Laneway/Cultural Tour in Melbourne) Take a Laneway tour with us at the start of your visit and you will get more out of your visit to Melbourne! Have a delicious lunch or afternoon tea (Mon) if you take the meal option.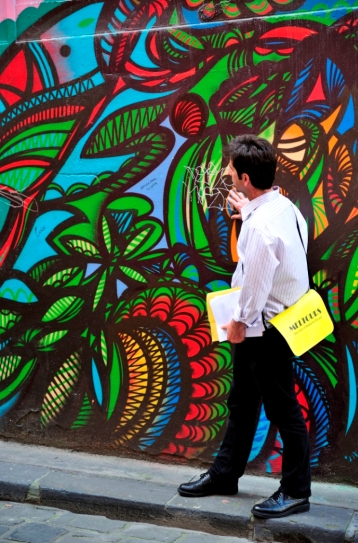 Street Art, Melbourne. Photo © 2011 Adrian Lagniton
Bustling cafe laneway, Melbourne. Photo © 2011 Adrian Lagniton

Housekeeping


All guides are First Aid Level 2 qualified but please notify us if you have any outstanding health issues. Some stairs are involved with the tour but can be avoided if requested due to health concerns. Controlled pedestrian crossings are used at all times except when crossing small laneways where we look out for your safety.

The Laneways tour usually starts at Federation Square or other venues close by. This is a walking tour so wear suitable footwear and please arrive 10 minutes early to ensure the tour starts on time. It takes 3 hours (2.5 hours without lunch) and is available for as many groups of 8-10 people maximum as we have guides available. (if all bookings received 48 hours prior or more) Larger groups possible by appointment. A weather guarantee for excessively wet or hot conditions is listed here so you can get the best from your tour.

Note that this is not a tour that enters laneway after laneway. (There are 135 and some have bins!) Our tours use example laneways to highlight the unique culture often based around laneways and also hidden spaces or obscure buildings. We can conduct a special private tour for you that can travel exclusively through as many laneways as possible. Most dietary requirements are catered for with the lunch option. However we only cater for those with disabilities or families with children younger than 13yo via our Private Tours.